 Little Seeds Kids Featured On the Ellen DeGeneres Show
May 7, 2021
When it comes to nursery furniture, searching for the perfect decor can be exhausting. Figuring out the precise style for your newest little one is a challenge in and of itself, but then the added stress of finding the furniture to suit your style is an added test of patience. Luckily, The Ellen DeGeneres Show's Mother's Day special highlights some of the best nursery and baby products on the market, and Little Seeds Kids was lucky enough to be approached to feature two items. The beautiful Haven Storage Crib and the Haven 3 Drawer Dresser in Dove Gray were selected to be spotlighted on the show, with several hundred units being given away to lucky audience members, along with our partner brand's item, the Safety 1st Dual Sided 2-in-1 Baby Crib & Toddler Bed Mattress. No matter your nursery style, the Haven Collection is the perfect staple to any nursery. 
Haven Storage Crib
At last you've found it! The perfect convertible crib that will not only grow along with your child for years to come, but will also provide much needed extra storage for all your newborn's many necessities. With its modern side paneling and chic gold drawer handles on the spacious trundle drawer, the Little Seeds Monarch Hill Haven 3-in-1 Convertible Crib with Storage will be a sleek addition to your contemporary nursery design. This lovely Convertible Crib begins as a standard baby crib, offering four adjustable mattress heights to prevent little climbers from any escape attempts as they grow. Once your little one is ready for their first big kid bed, simply add the Haven Toddler Bed Guard Rail (sold separately) to easily convert the crib to a toddler bed. The convertible crib transforms one final time into a day bed with the mattress height in the lowest position and the toddler rail removed.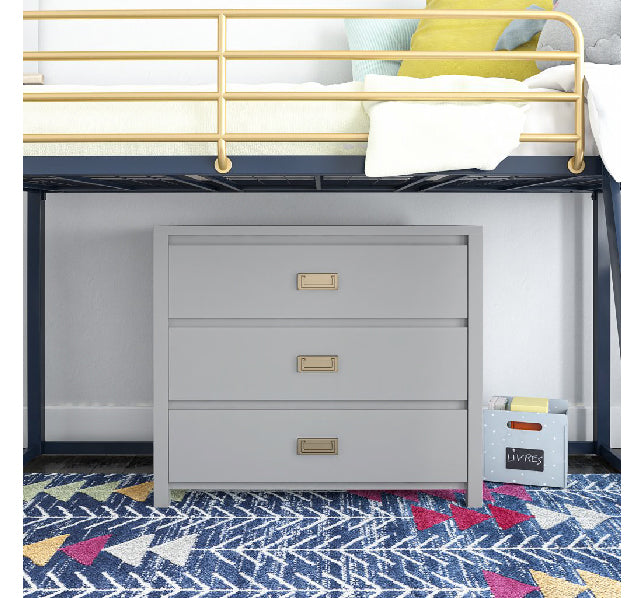 Haven 3 Drawer Dresser
Armed with sorting boxes and laundry baskets, you make your way through your child's bedroom like a jungle adventurer deftly cutting a path with her trusty machete. If only there was a way to prevent this wasteland of clothes piles from forming! Enter the Little Seeds Monarch Hill Haven 3 Drawer Dove Grey Kid's Dresser. With its light grey finish and fashionable gold drawer pulls, this campaign style dresser will be the perfect storage solution for your child or teen's jungle of clothes that even they will enjoy using. The Little Seeds Monarch Hill Haven 3 Drawer Dove Grey Kid's Dresser features durable metal drawer slides with built-in stops for safety. If your little one is still in diapers, you can add the optional Changing Table Topper (sold separately) to convert to a changing table dresser.

To learn more about Little Seeds Kids, please visit our about page. Check out ellentube.com for more details. Pair the Haven Storage Crib with the Safety 1st Grow with Me Dual Sided 2 in 1 Crib and Toddler Bed Mattress.